Here it is again, the fantastic galaxy print dress Jessica of
Midwest Muse
let me borrow! I wore this outfit at least a month ago when it was a bit cooler outside. I layered a thrifted mock turtleneck sweater underneath and added some herringbone print tights. You may also notice that my hair bow almost perfectly matches the dress. How could I resist the urge to pair two galaxy print things together?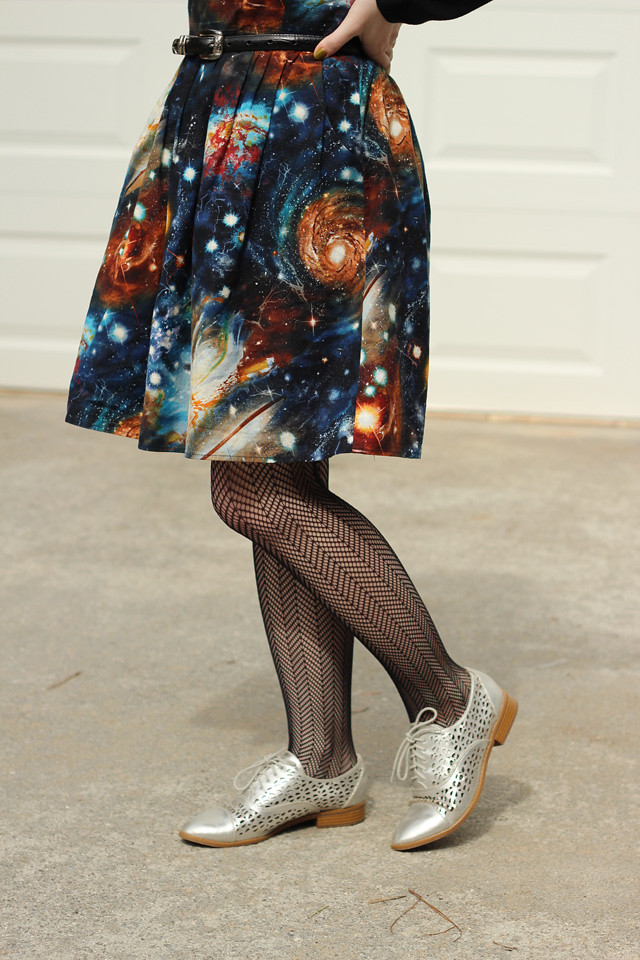 heart and solar system dress: modcloth - borrowed from Jessica | sweater, belt: thrifted | tights: kohl's? | shoes: sam & libby - target | hair bow: handmade
So
this dress
is definitely going on my to-buy list when it's back in my size (along with this
Audrey 2 print dress
at Pinup Girl Clothing.) Not that I need any more dresses. My closet is overflowing with dresses and I still want more. It's a problem. There are probably a couple that could go to Goodwill to free up some space though...
Anyway, are you happy it's finally the weekend? The week went by fairly quickly but I'm happy for some free time. The new job is going well but I definitely don't have much free time with the commute into Atlanta. It sucks spending 2.5+ hours of my day in traffic but I'm making money now so that's a big win in my life. Sometime soon I'll be moving downtown and then I'll have some of that commuting time back. It'll be wonderful! Things are good and might be even better in the near future.
I hope you all have a fantastic weekend! Do you have anything fun planned?
Happy Friday!